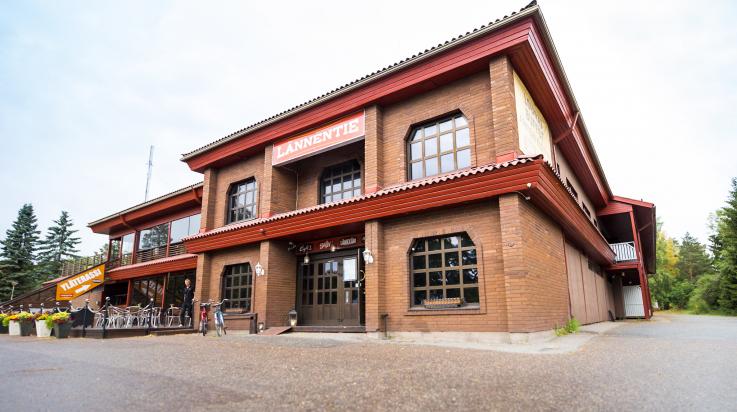 Hotel Lännentie
Delicious food, entertainment, and a great atmosphere
Hotel Lännentie, situated near the town centre, provides comfortable accommodation, delicious food, an enjoyable restaurant and cheerful customer service.
The renovated restaurant and rooms create a cosy atmosphere that is easy to enjoy.
The hotel restaurant provides delicious food from morning until night. Breakfast is served daily in the restaurant. A buffet lunch is available on weekdays from 11 am to 3 pm. From the afternoon until late in the evening, our à la carte menu offers juicy burgers, hot wings, and plenty of other treats.
Hotel Lännentie's stylish sauna premises and the large jacuzzi provide relaxation. The sauna and meeting room for 20 people with catering are available for hire for various events. Parties, meetings and other events can be tailored to the customer's needs.
Lännentie has not forgotten music, entertainment and dance. The spacious restaurant is divided into two floors. Upstairs you can enjoy the stylish Nightclub Highway, and downstairs is our more intimate restaurant. Live music is available on weekends. More information on artists and events is available on the Hotel Lännentie Facebook page and website.
During the summer, Lännentie's summer terrace and rooftop terrace invite you to enjoy sunshine and relaxation. For more active visitors, we have a beach volley court that you can enjoy with your friends.
Ask about Hotel Lännentie's accommodation and other services!
Lännentie's delicious lunch buffet 9 €
H

Enquiries and bookings:
Levysepänkatu 1, 23500 Uusikaupunki
Hotel reception tel. +358 44 753 3835
info@lannentie.fi
Breakfast 6.50 € Mon–Fri at 6.30–9.30 am,
Sat–Sun at 7.30–10 am
Lunch buffet 9 € Mon–Fri from 11 am to 3 pm
À la carte Mon–Sat from 12 pm to 9.30 pm
Prices:
Single from  EUR 85/day, double from EUR 95/day 
Extra bed EUR 15 pp. Extra bed for children under the age of 14 / baby bed EUR 15, pet EUR 10/day or EUR 20 / reservation.
Further information:
24 completely renovated hotel rooms. Rooms include TV, toilet, shower, wireless Internet connection, a private balcony or patio.
Prices incl. breakfast, sauna, free parking, customer computers with Internet connection and entertainment games. Entertainment and food restaurant.