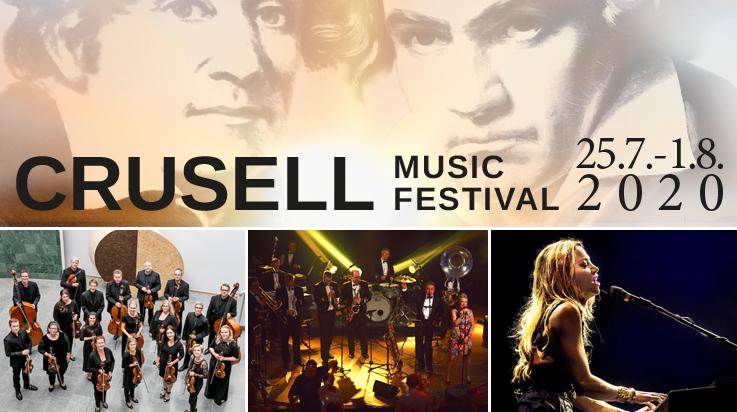 Crusell Music Festival 2020/Cancelled
Odes to Joy and other big emotions with the masters of music!
Over the years, what was a small music camp with masterclasses for clarinettists has grown into an internationally renowned music festival, one of the few that is focused on woodwind music.
This year's festival celebrates Ludwig van Beethoven, as the year marks the 250th anniversary of his birth. The theme this year if "Ode to Joy", and you will hear some of Beethoven's finest chamber music pieces played with original instruments.
The traditional festival opening takes place at the market square on Saturday, July 25, at noon. There you can experience a musical firefighting demonstration by Retuperän WBK, or The Retuperä Voluntary Fire Brigade Band, the newer-French-horn-music-playing technology student orchestra from Espoo, whose music will not leave you cold – or dry. On Saturday, you have the chance to enjoy the beautiful archipelago on the Crusell Cruise on M/S Kerttu. On the cruise, you can enjoy some snacks while listening to music.
During the festival, there are several daily concerts held at the churches of Uusikaupunki. The main concert of the week presents the Ostrobothnian Chamber Orchestra along with festival soloists.
The music and life of Bernhard Henrik Crusell, after whom the festival is named, is presented in the "Crusell's travel journals" concert series.
The festival offers high quality church concerts as well as a wide range of lighter music. In Anna Eriksson's concert "Jos minulla olisi sydän", you can hear some of the best-known songs of her musical career along with powerful interpretations of world classics.
If you are looking party, join the BBQ-themed evening with Kaartin Combo party band (known for their performances at presidential parties) at Uudenkaupungin Golfravintola.
The locals' favourite, the Night of the Lanterns, is organised once again on the Vallinmäki hillside.
The artistic director of the Crusell Music Festival is Tuulia Ylönen, principal clarinet of the Finnish National Opera.
Rauhankatu 10 23500 Uusikaupunki
(tourist information office)
Crusell Music Festival 2020 has been cancelled due to the exceptional times.
The program can be found at www.crusell.fi 
Tickets can be purchased from Lippu.fi offices around the country as well as the Uusikaupunki Tourist Information Office.
Lippu.fi
Tel. +358 600 900 900, www.lippu.fi
Uusikaupunki Tourist Information Office
Tel. +358 50 420 5333, matkailu@uusikaupunki.fi