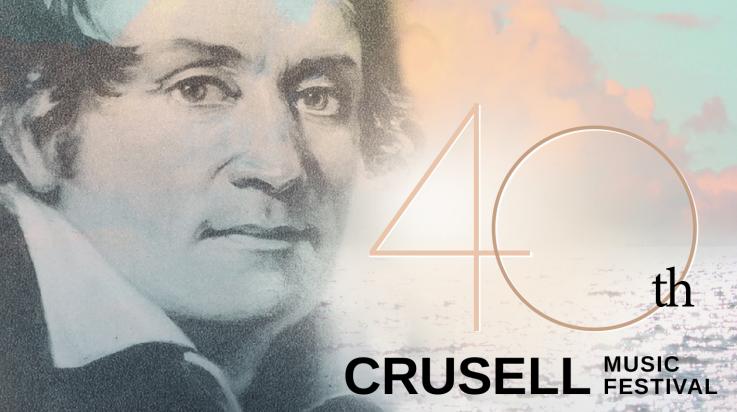 Crusell Music Festival 2021 celebrates its 40th anniversary!
Crusell Music Festival  24–31 July
In late July, Uusikaupunki will come alive, as the 40th anniversary of the Crusell Music Festival coincides with the 300th anniversary celebrations of the Treaty of Nystad.
The festival includes a wide range of excellent concerts as well as the Crusell International Clarinet Competition.
"This year we celebrate the 40th anniversary of the Crusell Music Festival! Over the years, the festival has seen many amazing concerts, international competitions, and great masterclasses. Our visitors, students, contestants, and artists alike have gained great memories and learned and experienced a lot. Including myself. The Crusell Music Festival holds a special place in my heart", says Artistic Director Olli Leppäniemi.
During the festival week, there will be some thirty concerts in Uusikaupunki and the surrounding areas. The traditional opening event of the festival will be held at the Uusikaupunki market square at noon on Saturday with a performance by the multi-talented Marzi Nyman and accordionist Niko Kumpuvaara. The soloist of the celebratory mass will be mezzo-soprano Monica Groop. In the anniversary concert you will hear the Ostrobothnian Chamber Orchestra led by Malin Broman as well as countertenor Valer Sabadus as soloist.
Once again, the festival will showcase a great number of top international artists. They include, for example, violinists Elina Vähälä and Jaakko Kuusisto, clarinettist Ricardo Morales as well as pianists Paavali Jumppanen and Iiro Rantala together with actress Lotta Kuusisto. The music of Bernhard Henrik Crusell, after whom the festival is named, is showcased in many of the concerts, especially in the "Crusell's travel journals" concert series.
This year's children's concert is by popular children's orchestra Ammuu! If you are looking for a party, come and hear the Kaartin Combo party band (known for their performances at presidential parties) led by Jepa Lambert. This year's Night of the Lanterns picnic concert brings us the music of beloved clarinettist Antti Sarpila.
Come and join the celebration!
Crusell Music Festival 2021
The programme and tickets are available at www.lippu.fi.

Tickets are also available through Lippupiste service points throughout the country and at the Uusikaupunki Tourist Information Office from 1 June onwards.
You can also make ticket reservations through the Uusikaupunki Cultural Services Office, tel. +358 50 4205 401.
Further information is available at www.crusell.fi
Rauhankatu 10, 23500 Uusikaupunki
(tourist information office)
Crusell Music Festival 2021
The program can be found at www.crusell.fi 
Tickets can be purchased from Lippu.fi offices around the country as well as the Uusikaupunki Tourist Information Office.
Lippu.fi
Tel. +358 600 900 900, www.lippu.fi
Uusikaupunki Tourist Information Office
Tel. +358 50 420 5333, matkailu@uusikaupunki.fi