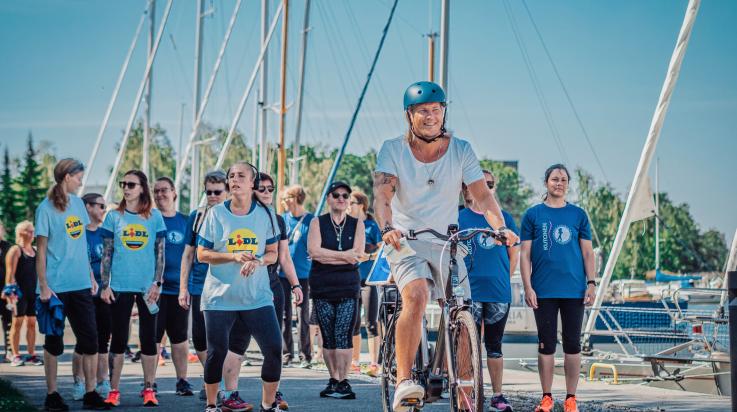 Sports and hobbies
Many possibilities for sports and recreation
Feel refreshed in Uusikaupunki

Uusikaupunki offers many possibilities for sports and recreation for lone travellers,
couples, families, and even larger groups.
There is something for everyone, whether you are looking for sports, adventure, or relaxation – no matter your age or condition. Most sports and recreation venues are located close to the town centre. There are also plenty of services available in the active village centres.
You will find a public swimming pool, an ice rink, an athletics field, gyms, and fitness centres. There is a wide range of activities on offer, including horse riding, bowling, kayaking, fishing, scuba diving, and swimming. The local 18-hole golf course has one of the longest seasons in Finland. The Vahterusring ski tunnel always has perfect conditions for skiing, running, cycling, and roller-skating. The ski tunnel is also home to a golf simulator. The City of Uusikaupunki maintains ski tracks on local jogging paths during the winter, weather conditions permitting.
If you are interested in frisbee golf, you will find several courses in the area. Last summer, a new 18-lane course was constructed in Sorvakko, near the town centre, and there are also frisbee golf courses in Kalanti, Lokalahti, and Pyhämaa. In Kalanti, you can find a 21-lane, competition level frisbee golf course. There is also a practice area and a 200-metre driving range.
The new competition-level padel courts by the Kaupunginlahti bay provide an excellent opportunity to try out this popular game. There are beginner's courses available for new players and playing equipment for hire.
At the head of the Kaupunginlahti bay, there is a skate park, where the whole family can enjoy a day of skateboarding, scooting, or biking, surrounded by great views. Next to the skate park are the popular Lions park playground and an activity park for senior citizens.
For the outdoorsy, there are various nature trails and jogging paths, mountain biking trails, lean-tos, and barbeque shelters. Along the Sorvakko jogging path, you can enjoy the sea view and use the popular workout stairs. The new 62-step 'culture stairs' at Telakanranta in Pyhämaa are also an excellent spot for a workout.
After a day of sports, why not relax in a sauna. There are several rental saunas in and near Uusikaupunki. There are also some public saunas available.