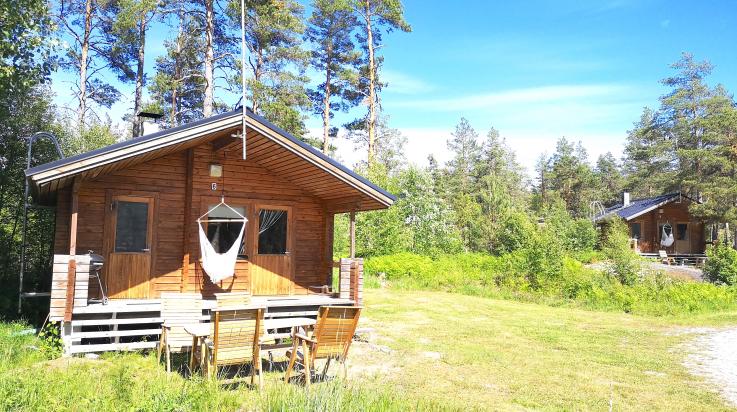 Pinetree Cottages
Accommodation in the peaceful countryside.
Our comfy log cabins are well suited for families, couples, groups of friends as well as those looking for a bit of peace and quiet.
Pinetree Cottages holiday homes are located in Pyhäranta, about a 10-minute drive from Uusikaupunki. The holiday village consists of nine clean and comfy cabins that each house 4–5 people. Five of the cabins are also available during the winter. You will be able to drive all the way up to the cabins, and the area is rocky terrain that is easy to walk around. The cabins are spaced 40–50 metres apart.
Each cabin comes equipped with a wood-burning sauna, shower, basic crockery, TV, microwave oven, fridge, stove, grill, and wood-burning oven.
Near the cabins you will find a pond with a rock base that you can take a dip in on hot summer days.
In the nearby lake in the middle of a forest you can go rowing, and there is also a lean-to where you can sit down for a picnic.
There are plenty of activities available in the area: in the summertime, you can play volleyball and badminton or go fishing, in the autumn you can pick berries and mushrooms in the forest, and in the winter you can go skiing or sledding. There are also some great jogging tracks in the area. For the children in the family, there is a furnished playhouse, a slide, and swings.
Many possibilities for relaxing and activities

Enquiries and bookings:
contact

[at]

pinetreecottages.com
Hakajärvenpolku 27, Pyhäranta
Pinetree Cottages
Radansuuntie 60 (10 km along Raumantie, Sannainen 600 m) Pyhäranta
Cabins are also available for long-term hire by agreement.
Prices:
EUR 160-190/weekend
EUR 450-590/week
Further information:
Nine tidy log cabins with all conveniences, available for rent. Five cabins available during winter. All cabins include a wood-heated sauna and showers. Swimming in the nearby pond/lake, rowboat available. Log lean-to on the lakeshore. Open year-round. Approx. 10 km from the city centre along road 196, then 600 m from Sannainen.