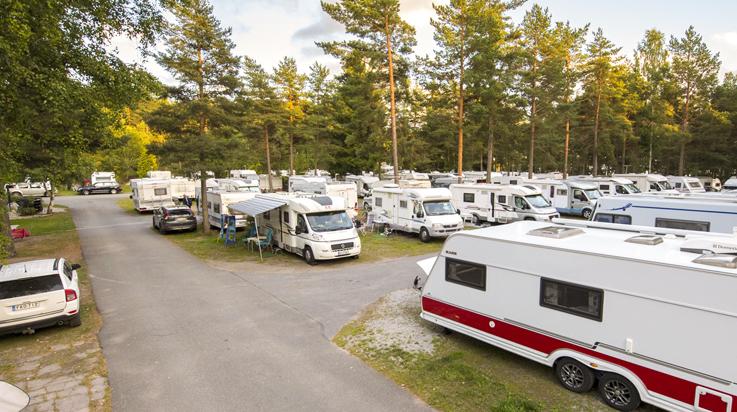 Rairanta – caravan site
Are you travelling by car or caravan?
Come and have a nice time in Rairanta!
Rairanta welcomes caravanners to the shores of a beautiful bay to the south of Uusikaupunki. Rairanta is maintained by a skilled group of volunteers, and it has received several awards over the years.
Rairanta is a cosy 14-hectare camping ground by a beautiful bay about 7 km south of Uusikaupunki. You will find clear signposting along the road between Taivassalo and Uusikaupunki.
Rairanta is maintained by a skilled and active group of volunteers, and it has received the SFC "Caravan Smiley" badge, which is the sign of a good quality and safety. Rairanta has also been selected the Campsite of the Year in 1994, 1997, and 2008.
Rairanta is open year-round, and there is always an on-call host available. At the office there is a kiosk where you can buy coffee, ice cream, sweets and basic travel necessities. Visitors can also use the spacious new kitchen and dining room with plenty of sitting room.
Rairanta has a total of 270 spots for caravans or mobile homes, and each spot is equipped with electricity. There are no tent spots available in Rairanta.
There are two saunas available for common general use, one for men and one for women, as well as three good quality rental saunas. There is a beach with shallow water, which is safe for children to go swimming. If you wish to go fishing, there are some boats available by the beach as well.
Up on Rainkallio there is a frisbee golf course with 10 fairways. The terrain on the course is varied, which keeps the game interesting and challenging. Frisbees can be borrowed from the office. During summer weekends, dances and karaoke events are held at the multipurpose hall Railakka for a true beach party feel. Welcome!
toimisto

[at]

rairanta.fi
Vanhakartanontie 216, 23500 Uusikaupunki
Prices:
Daily charge EUR 22/day, incl. electricity, showers, WCs, shared sauna.
Monthly charge Jun-Aug EUR 250/month (not incl. electricity), other times EUR 200/month.
Seasonal bookings available for members between September and April EUR 320 and May-August EUR 340.
Annual bookings for members EUR 525.
Sauna bookings EUR 15/hour.