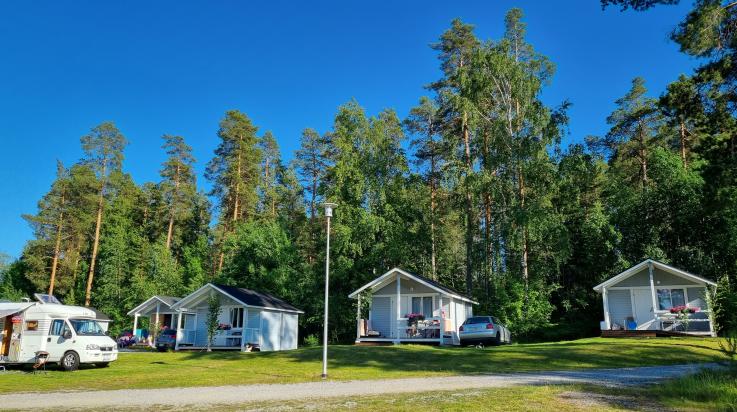 Santtioranta Camping
Santtioranta Camping welcomes you to the seaside town of Uusikaupunki.
Santtioranta Camping is easy to reach, and it is located only just over a kilometre away from the Uusikaupunki market square. The distance from Turku is around 70 km and from Rauma around 50 km. We always serve our customers with a smile, and we have the nearest child-friendly beach to the town centre.
Santtioranta has seven cottages with a lovely view of the sea. There are also spacious spots available for those with mobile homes, caravans, or tents. Our cosy café-restaurant serves customers every day during the opening hours of the reception, offering both café treats and restaurant meals.
The services and activities of Santtioranta, surrounded by the beautiful seaside landscapes, are fun for the whole family. There are plenty of things to do here! You can rent bikes, e-bikes, and e-scooters, even for longer outings. If you'd rather head out to sea, we also have rowboats, canoes, kayaks, and SUP-boards for hire. Our guests have access to a sauna (by order), a barbecue shelter, and outdoor barbecue as well as a playground and playhouse for the children. During the summer, we organise themed evening activities. On Mondays, there are guided games for children, on Tuesdays we serve tea with some lovely string music, and on Saturdays, there will be a barbecue party with entertainment by a troubadour.
Further information: Located on the seaside, close to the city centre (approx. 1.5 km from the marketplace). Area includes six cottages, a kiosk, a sauna, an indoor dining area, electric sockets, and a washing machine. Cottages have electric heating, fridge, coffee machine, microwave oven, and bunk beds. Beds come with a mattress, a blanket and pillows, no bed linen. Shallow, child-friendly beach. Water sports equipment for hire: kayaks, canoes, rowboat.
santtioranta

[at]

karilla.fi
Kalalokkikuja 14 23500 Uusikaupunki
Open from 1 May to 30 September 2022
Reception and café are open every day from 8 am to 10 pm.
Further information, prices and booking:
https://karilla.fi/santtioranta