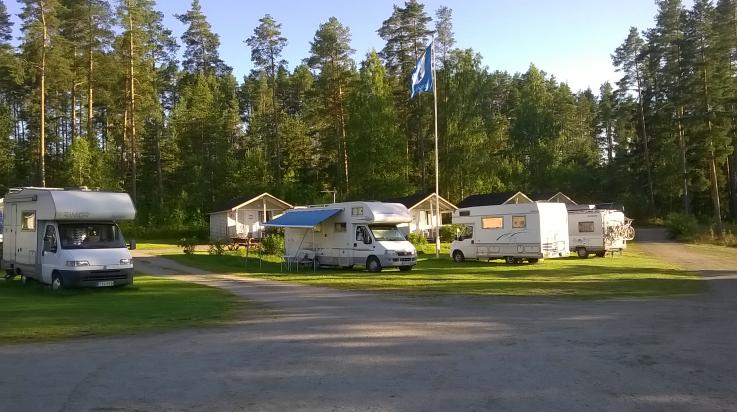 Santtioranta Camping
Santtioranta Camping welcomes you to spend your holiday in the lovely seaside town of Uusikaupunki! Whether you are looking for plenty of activities or extreme relaxation, Santtioranta has plenty to offer for the whole family.
The camping ground is surrounded by beautiful nature, and it is easy to get to. Santtioranta is only a kilometre away from the Uusikaupunki town centre. Distance from Turku is about 70 km and from Rauma about 50 km – by following the coastline of western Finland, you will not miss it. The camping ground is also a guide point for the Velhovesi ring route.
Santtioranta has six cottages with a lovely view of the sea. For travellers with their own mobile home or tent there are plenty of spots to choose from. Facilities include rest rooms, kitchen, dining room, and lounge. The camping ground also has a sauna, a kiosk and a laundry room.
There are plenty of things to do here! Child-friendly beach, playground, playhouse, and nearby fishing spots make this a great place for a family holiday. You can also rent bikes from the campsite even for a whole day. There are also some water sports equipment available for rent, for example kayaks and canoes. They can be rented for a few hours or for a whole day.
Further information: Located on the seaside, close to the city centre (approx. 1.5 km from the marketplace). Area includes six cottages, a kiosk, a sauna, an indoor dining area, electric sockets, and a washing machine. Cottages have electric heating, fridge, coffee machine, microwave oven, and bunk beds. Beds come with a mattress, a blanket and pillows, no bed linen. Shallow, child-friendly beach. Water sports equipment for hire: kayaks, canoes, rowboat.
santtioranta

[at]

karilla.fi
Kalalokkikuja 14 23500 Uusikaupunki