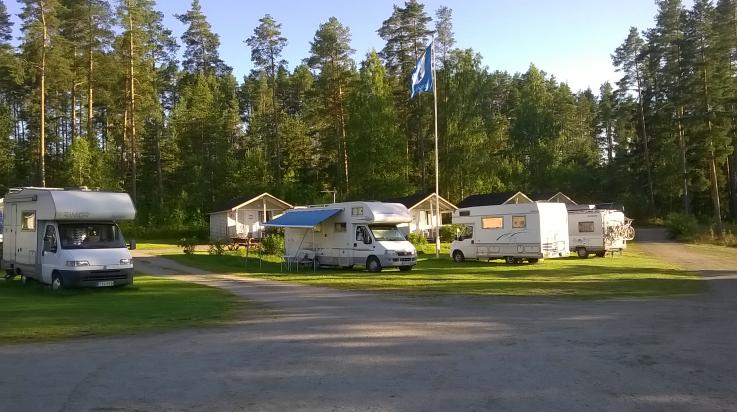 Santtioranta Camping ***
Santtioranta Camping welcomes you to spend your holiday in the lovely seaside town of Uusikaupunki! Whether you are looking for plenty of activities or extreme relaxation, Santtioranta has plenty to offer for the whole family.
– Santtioranta Camping is a popular place among children and adults alike, say owners Pasi and Sari Poukka.
The camping ground is surrounded by beautiful nature, and it is easy to get to. Santtioranta is only a kilometre away from the Uusikaupunki town centre. Distance from Turku is about 70 km and from Rauma about 50 km – by following the coastline of western Finland, you will not miss it. The camping ground is also a guide point for the Velhovesi ring route.
Santtioranta has six cottages with a lovely view of the sea. For travellers with their own mobile home or tent there are plenty of spots to choose from. Facilities include rest rooms, kitchen, dining room, and lounge. The camping ground also has a sauna, a kiosk and a laundry room.
– There are plenty of things to do here! Child-friendly beach, playground, playhouse, and nearby fishing spots make this a great place for a family holiday. You can also rent bikes from the campsite even for a whole day. There are also some water sports equipment available for rent, for example kayaks and canoes. They can be rented for a few hours or for a whole day. We also have various water toys available for purchase or rent. Through us you can book different group tours to see the unique nature of the archipelago.
We also have services available for companies; ask us about training and recreational packages as well as security courses, the entrepreneur couple adds.
Now available RIB rides to the Sea of Bothnia, more information at www.bluecamp.fi. or tel. +358 40 556 2659, Pasi Poukka.
Further information: Located on the seaside, close to the city centre (approx. 1.5 km from the marketplace). Area includes six cottages, a kiosk, a sauna, an indoor dining area, electric sockets, and a washing machine. Cottages have electric heating, fridge, coffee machine, microwave oven, and bunk beds. Beds come with a mattress, a blanket and pillows, no bed linen. Shallow, child-friendly beach. Water sports equipment for hire: watercrafts, kayaks, canoes, rowboats and beach toys. Diving courses and trips, and snorkelling courses for children. Tailored training and recreational packages for groups in the area and the archipelago.
santtioranta

[at]

bluecamp.fi
Kalalokkikuja 14 23500 Uusikaupunki
Reservations: www.santtioranta-camping.fi (online-booking)
Open: Jun 1 – Aug 30, 2020
Prices
Basic fees: Tent, caravan and camper van fees: EUR 17/day
Per-person fees: Adults EUR 4 pppn
Children aged 0-14 EUR 2 pppn
Electrical connection EUR 5/day.
WLAN Internet connection free of charge for overnight guests.
Basic fees during Midsummer (Thu-Sun):
Tent, caravan and camper van fees: EUR 20/day
From Thursday to Sunday EUR 55
Fees EUR 4/person/day
Children aged 0-14 EUR 2/person/day
Cottages: from Jun 1 to Jun 17 and from Aug 10 to Aug 30
Cabin 1-2 people from EUR 59/day
Cabin 3-4 people from EUR 69/day

From June 22 to August 9
Cabin 1-4 people from EUR 69/day
Extra bed EUR 15/day
Pets EUR 5/day. Please inform of any pets when booking, as there are separate pet-friendly cabins.
Special prices for cabins
Merefesti Jun 6 to Jun 7: Cabin 1-4 people EUR 80/day
Midsummer package Thu-Sun: Cabin 1-4 people EUR 270/Thu-Sun
Extra bed EUR 20/day.
Crusell Week from Jul 25 to Aug 1:  Cabin 1-4 people EUR 80/day
Venetian Night Festival Aug 29: Cabin 1-4 people EUR 80/day
Weekly rate
From June 1 to June 17 and from August 10 to August 30:
Cabin 1-2 people from EUR 295/week
Cabin 3-4 people from EUR 395/week
From June 22 to August 9:
Cabin 1-4 people from EUR 395/week