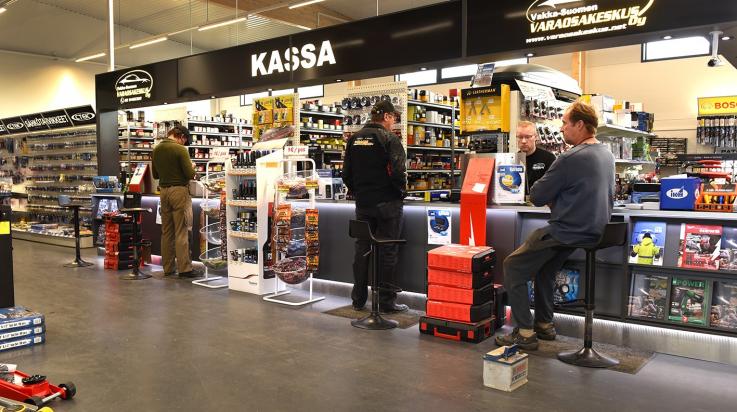 Vakka-Suomen Varaosakeskus
SPARE PARTS, TOOLS AND MUCH MORE!
Vakka-Suomen Varaosakeskus Oy spare parts service, which is located in the Ketunkallio business centre, serves motorists, farmers and boaters with years of experience. The shop is part of the AD chain, and it stocks spare parts for various makes and models of cars, tractors and other vehicles, in addition to all kinds of interesting products for machine enthusiasts and hobbyists.
Marko Säikkä, the owner of Vakka-Suomen Varaosakeskus, welcomes old and new customers to browse the shop with its even wider selection than before. The price range of products has also been extended.
– We sell for example work clothes, protective gear and fastening accessories of all kinds, Säikkä says.
If you run into trouble with your car during your holiday or need an oil change, we can help you. We also sell tractor parts and tools imported by the IKH chain.
– We invest in customer care, and we also wish to provide services for tourists. We can get a new battery for your car or boat in a trice.
Vakka-Suomen Varaosakeskus is located close to the town centre, and it collaborates with many high quality car repair services. The shop is easy to pay a quick visit to on your way to the summer cottage.
– We have everything. Welcome!

​​
myynti

[at]

varaosakeskus.net
Ketunkalliontie 3, 23500 Uusikaupunki
Vakka-Suomen Varaosakeskus Oy
Ketunkalliontie 3, 23500 Uusikaupunki
Tel. +358 2 846 6300
Opening hours:
Mon–Fri from 8 am to 5 pm, Sat from 9 am to 1 pm