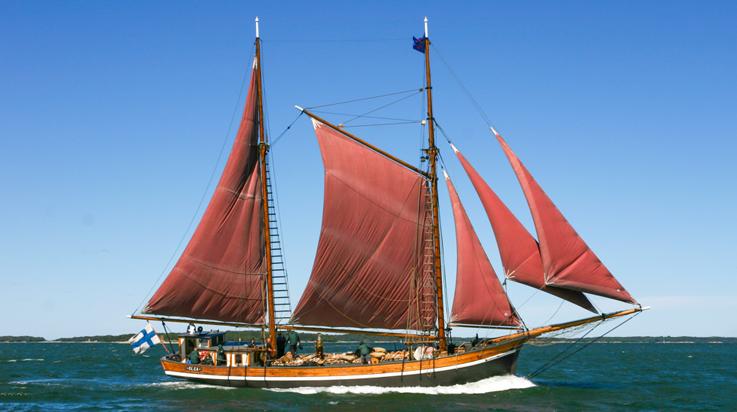 Galley Olga
Genuine sailing
Olga, the oldest still sailing galley in the Nordic countries, takes you on a trip around the most beautiful landscapes and attractions of the archipelago.
On board Olga you can visit the mysterious Katanpää fort island, which is also the destination of the atmospheric Midsummer eve cruise. You can also join one of our fun Pirate cruises for children in July.
The maximum number of passengers on board Olga is 34, and the galley is fully licensed to serve alcohol. The experienced crew of the galley will make sure that your cruise is successful and safe. Ask us about chartered cruises, for example for birthdays, weddings or business events. Come and enjoy the fair winds!
 
Midsummer eve's evening cruise, June 19 from 4 pm to midnight
Experience a unique cruise! The cruise takes you to the Katanpää fort island for a relaxed midsummer party. Bonfire, programme, music and a relaxing atmosphere.
75 € /adult
35 €/child (4–12 yo)
Incl. cruise, dinner service on board the ship and a midsummer eve's programme in Katanpää.
Cruises to the Katanpää fort island between June 27 and August 9
The fascinating fort with its cannons, beautiful nature, and exciting quarries attract visitors of all ages.
Departures from Uusikaupunki on Saturdays and Sundays
at 10.30 am, return to Uusikaupunki at around 6 pm.
64 €/adult
28 €/child (4–12 yo)
Incl. voyage, lunch on board the ship (salmon soup and islander's bread), and a guided tour of the island.
Children's pirate cruises on Fridays July 3–31, from 4 pm to 6 pm
Pirate cruises for children and adventurous adults. The cruise travels around the Uusikaupunki archipelago, and you will get to hear stories and to exciting things. We have recruited a number of jolly pirates to our crew, and they will keep you busy with all kinds of activities during the day.
20 €/child
25 €/adult
Incl. voyage, program, bag of surprises, and juice.

 

​​
Galley Olga
Cruises can be bought online up until the day before the cruise at:
doerz.com/visituusikaupunki
Enquiries: Uusikaupunki Tourist Information Office
Tel. +358 50 420 5425, +358 50 420 5333
matkailu@uusikaupunki.fi

Chartered cruises:
Tel. +358 400 468 567