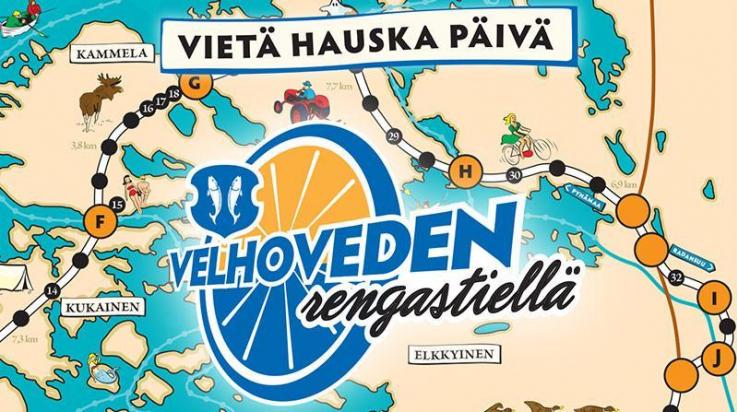 Velhovesi ring route
Cycling or driving by car in the archipelago
Experience some of the most beautiful archipelago without having to bother about boats or ferry timetables. Barrel through the whole 50 km in one go or take your time enjoying the beautiful archipelago.
The Velhovesi ring route takes you through the northern parts of the Uusikaupunki archipelago, around the freshwater basin. The route is about 50 km long. There are side roads leading to the Lepäistentie and Lyökintie turnarounds, to the Pyhämaa village centre, the tip of the Pitkäluoto spit, and the Männäinen ironworks. The main route is signposted clockwise. The main route is marked with orange circles and the side roads with green circles. The directions are marked with arrows.
You can travel along the route, for example, with an e-bike that you can rent from the Tourist Information Office or from Santtioranta Camping. Along the route are villages where you can stay overnight, beaches where you can stop for a swim, scenic points where you can take a breather, and village shops where you can browse. There are also cafés and restaurants along the route. All scenic points, rest stops, beaches, attractions, and services are marked on the map brochure and the website.
You can also rent canoes from the camping site. At Telakanranta in Pyhämaa, there are 8 different kinds of kayaks available for rent. You can choose different routes from the sheltered freshwater basin to the stunning Sea of Bothnia. The kayak routes have easy passage between sea routes and inland waters.
Learn about centuries old stories along the Velhovesi ring route. Story points are marked in the brochure and the website as well as on signposts along the route. The signposts for the main route are orange and those for the side roads are green. The plaques contain QR codes that you can scan with your mobile phone. By scanning the QR code, you can read the story directly from your phone. You can therefore read the stories either from the brochure of from your phone.
Ring route brochures are available at the Tourist Information Office.
Visit Uusikaupunki
Rauhankatu 10, Uusikaupunki.
Tel. +358 50 420 5333
matkailu@uusikaupunki.fi
uusikaupunki.fi/velhovedenreitti
matkailu

[at]

uusikaupunki.fi
Rauhankatu 10, 23500 Uusikaupunki
Tourist Information Office