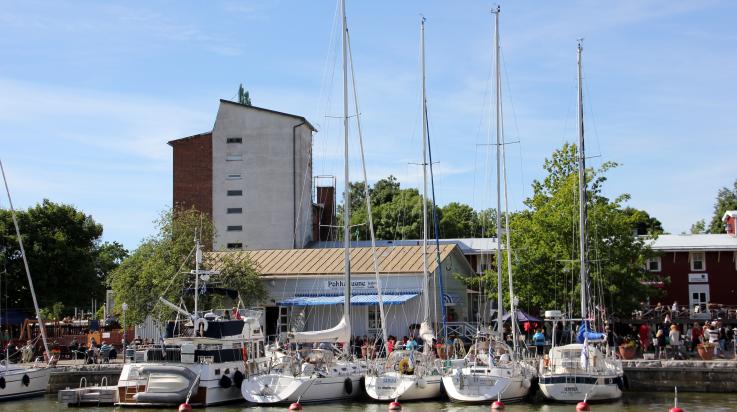 Guest harbours
Pakkahuone guest harbour
April 10 - October 4,2020
Pakkahuoneentori 2, Kaupunginlahti Bay, tel. +358 44 712 3500, pakkahuone@uusikaupunki.fi
Pakkahuone is located at the heart of Uusikaupunki, on the northern shore of Kaupunginlahti Bay near the services of the city centre. There are approx. 70-80 guest moorings. 
Harbour fees: EUR 19/day, day fee EUR 5 (sauna not include), electricity EUR 3/day. Every other night free of charge. Offer is not valid for Jun 5 – Jun 7 and Jun 19 – Aug 29.
Café, art exhibitions, evening market, Internet, bicycle hire, children's playground, laundry room, shopping carts, WLAN.
Every Wednesday from Jun 24 to Aug 5 Evening Market at 4pm.
See more about Pakkahuone guest harbour
Salmeri Harbour
Veneranta 10 (southern shore of Sorvakonniemi), Uusikaupunki.
(P60° 47' 60" I21° 24' 15")
tel. +358 2 842 3353. salmeri@salmeri.fi
Guest moorings and home harbour with services. Safe environment, water, electricity, shower, WCs, waste management. Suction unloading of septic tanks. Salmeri also has a café, boat equipment store, gas station (24 hours), boat and engine maintenance and repair, and docking services. Distance from city centre approx. 1 km along pedestrian walkway. Approx. 1 km from golf course. Salmeri is an affordable place to moor your boat for a few days (from EUR 12/day incl. electricity), for a week or even for a whole year. www.salmeri.fi
Yacht Club pier (UPS)
Pietarinkari (island), tel.  +358 50 575 6060, uginpaviljonki@gmail.com
Free moorings. Restaurant and sauna by order. See opening times:
www.uudenkaupunginpurjehdusseura.fi
Pyhämaa Visitors' berth
Pyhämaanranta 37, tel. +358 40 688 2605/tourism association, +358 45 651 9941/chairman.
Open June-August Tue-Sat 10am-4pm.
Rantsali service centre, toilets and showers. Laundry, mini kitchen, Internet, souvenirs.  Beach. 9 moorings. Sockets, hydrant, an outdoor grill, waste disposal, volleyball court, carpet cleaning post. Kayaks for rent. Harbour fee EUR 10/day.
Haanperänkari Karipirtti
Uudenkaupungin Työväen Moottoriveneseura Motor Boat Club's visiting harbour at Karipirtti. The piers have electrical connections and water points. Sauna, about 40 moorings. Club building. utmvsry@gmail.com, www. utmvs.fi