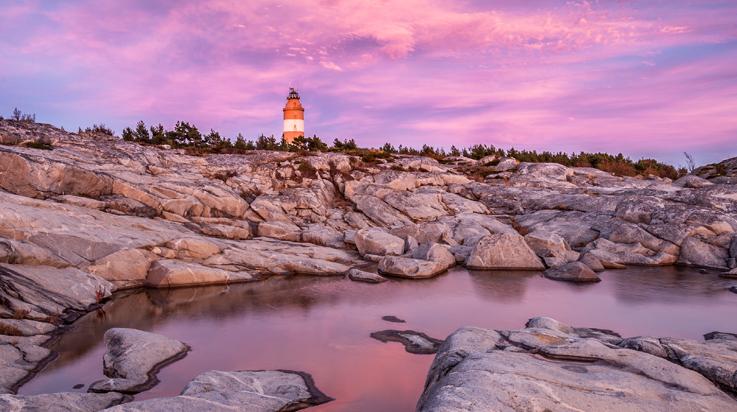 Isokari lighthouse island
A lighthouse island in a marine national park
Isokari offers visitors a number of services in the peaceful archipelago. The tallest lighthouse in the Gulf of Bothnia is surrounded by exquisitely beautiful nature. The Isokari island is part of the Bothnian Sea National Park.
The lighthouse itself is from the era of the Russian Empire, from 1833. You can visit the still operational lighthouse on a guided tour, which are held daily during the summer.
The 180-hectare island has plenty of other interesting sights in addition to the lighthouse. You can take a stroll along a nature trail, spot rare plants and birds, stroke a sheep, and marvel at the beauty of the endless horizon. The morning activities of the island's native black guillemots are a wonderful sight – you can enjoy watching them by spending the night at Isokari!
The island has great services for travellers, including a hotel, restaurant, and guest harbour. Cruises to the island are organised from early spring to late autumn, and many people also like to visit the island by their own boat.
The summer hotel is located right by the beautiful lighthouse. The small hotel only has six flats, so make your booking already in the spring! During high summer you can travel to the island on M/S Kerttu, and during spring and autumn there are different kinds of themed packages available.
Isokari offers a beautiful setting for meetings and business functions, and the island is a perfect place to organise your birthday or perhaps an engagement party.
The island is easy to reach by M/S Kerttu or your own boat.
Further information on services and prices online at www.isokari.fi. Welcome – join us for a cruise or a longer stay!
Unique nature and an endless horizon!
VISIT ISOKARI
Sektoriloisto
Tel. +358 40 1866 350,
+358 440 998 299
info@isokari.fi
www.isokari.fi
GUIDANCE ON THE ISLAND
June 1 – August 31 every day at 10 am and 4 pm. 
Guidance fee € 15 /adult and € 7/ 4–12 yo.
Tickets and departure from Isokari harbour.