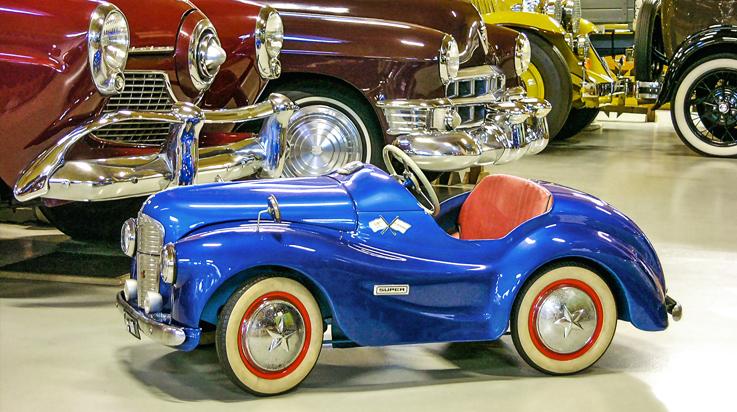 The Uusikaupunki Automobile Museum
The Uusikaupunki Automobile Museum is the leading automobile museum in Finland. It is one of the most popular year-round attraction in Uusikaupunki.
The museum's three exhibition halls are home to an extensive collection of car classics and other items related to motoring and motor sports. The exhibition also has its share of motorcycles as well as two planes.
The museum's collection includes a wide range of different makes and models from the legendary Ford Model T to modern hydrogen cars. On pride of place is the first Finnish car, Korvensuu from 1913. There is also a separate exhibition for the locally important Saab brand and other Finnish cars. A special collection of concept cars showcases the futuristic designs of Finnish car designers from the 1980s onwards. These are not available anywhere else!
The rapid development of the Finnish automobile industry began in Uusikaupunki in 1969. Today, the Mercedes-Benz cars manufactured in Uusikaupunki find their way to all corners of the world. The industry's path to success has been recorded as part of the museum's exhibition.
At the museum you can also find an experimental restoration workshop and a museum shop. The shop sells many locally made products. You can also buy Panu Kaila and Pentti Virtanen's book "Lyskan pojat ja limusiinit" (Lyceum boys and limousines). From the shop you can also purchase UNICEF dolls and thus help children in need all around the world. Thank you for your help!
UUSIKAUPUNKI AUTOMOBILE MUSEUM
Autotehtaankatu 11
23500 Uusikaupunki
Tel. +358 204 848 068
or +358 500 845 835
automuseoinfo@gmail.com
visituusikaupunki.fi/automuseo
Open daily from 11 am to 5 pm.
From June to August extended opening hours 10 am - 6 pm.
Tickets: 10 €/adult, 5 €/child
8 €/pensioners and groups (min. 15 people).
Guided tours from 60 €/group.
Tours, catering and other additional services only by reservation.
See the nice video below.