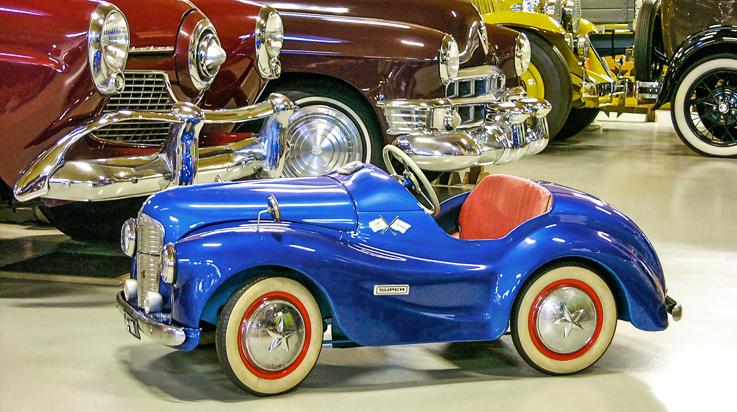 Automobile museum
The Uusikaupunki Automobile Museum has for long been considered the most popular year-round attraction in town. Many believe that, now even more clearly than before, it is the most important car museum in Finland.
The museum houses a wide range of classic cars and many other interesting exhibits from various areas of motoring and motor sports.
The quick development of the Finnish automobile industry began in 1969, nearly 50 years ago. Today, the Mercedes-Benz cars manufactured in Uusikaupunki find their way to all corners of the world. The amazing development trajectory of the industry beginning from early 20th century has been documented as a part of the museum's exhibition.
All in all, the museum houses well over a hundred cars, a good collection of old mopeds, a few motorcycles, and two planes. Three large exhibition halls are filled to the brim with interesting things to see.
The museum has an extensive selection of different makes and models. You can spot everything from Beetles to Cadillacs. In addition to the highly regarded general collection, there is a separate exhibition for the locally important Saab brand and other Finnish cars. On pride of place, naturally, is the first Finnish car, Korvensuu from 1913. Another special exhibition houses a collection of concept cars. It showcases many futuristic designs made by Finnish car designers during the past decades. The collection is updated annually. Sustainable development is a continuing theme at the museum. A special exhibit thought up by architect Panu Kaila, "Lyskan pojat ja limusiinit" (Lyceum boys and limousines) is still on show among other exhibitions. The anticipated exhibition publication can be reserved at the museum.
The special exhibitions are a splendid addition to the museum's already extensive and informative collection.
At the museum you can also find an experimental restoration workshop and a museum shop. The museum shop sells many locally made products.
automuseoinfo

[at]

gmail.com
Autotehtaankatu 11, 23500 Uusikaupunki
Open year-round every day from 11 am to 5 pm.
From June to August longer opening hours from 10 am to 6 pm.
Groups by agreement.
Tickets
10 €/adult, 5 €/child,  8 €/pensioner and groups
(min. 15 people).
Guided tours from 60 €/group. 
Tours, catering and other additional services only by reservation.