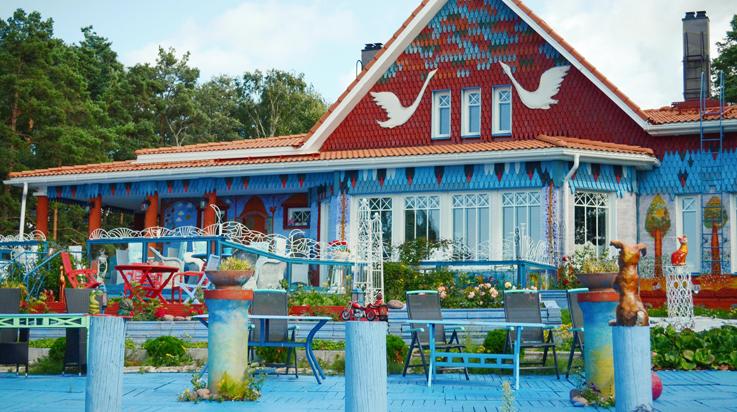 Art House Pilvilinna
Delightful colours, amusing pictures, captivating stories – all this is Art House Pilvilinna.
Pilvilinna is a colourful and amusingly unique art house. Both the outside and the inside of the house are filled with paintings and exhibitions by artist Raija Nokkala, and the walls are filled with the cloud-themed poems of Ulla Kamppinen. This year Pilvilinna's garden is filled with hundreds of roses, and the coffee terrace has been extended.
The lace cottage and the annually changing exhibitions, a quaint art trail in the forest, a terrace by the sea, delicious snacks and a unique little card shop make Pilvilinna a uniquely unforgettable art experience.
Pilvilinna is located about 3 km from the centre of Uusikaupunki towards Lepäinen, right next to a public beach.
Pilvilinna is an excellent place for the whole family to visit. The garden and the forest art trail are filled with dozens of humorous sculptures, and the colourful naivistic paintings of the lace cottage and the house itself appeal to visitors of all ages. By the sea you can find the very own furnished two-room flat of Pilvilinna's own lop-eared bunny Pablo. Enjoy a moment of luxury on the art house terrace with a wonderful sea view.
Hiuntie 212, 23500 Uusikaupunki
Opening hours
June 26 to August 11
Tue, Thu and Sat from 2 pm to 6 pm
Entrance during regular opening hours
5 €/person, 3 €/child 2–10 yo
Group reservations
Group reservations can be made between May 14 and August 31 outside regular opening hours. 
Enquiries and bookings:
Uusikaupunki Tourist Information Office, tel. +358 50 420 5329
matkailu@uusikaupunki.fi or raija@nokkala.net