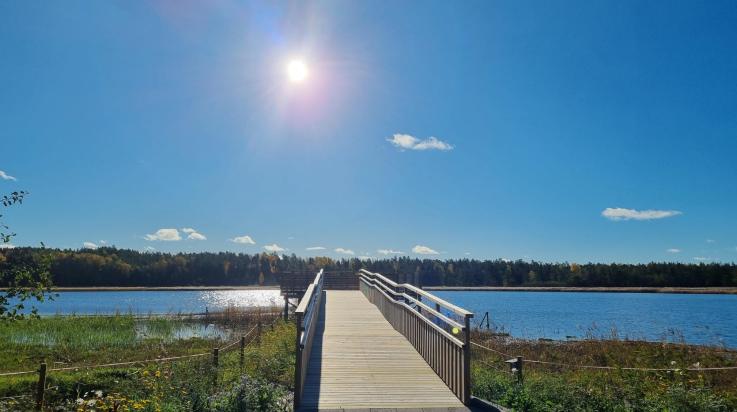 KASARMINLAHTI ACCESSIBLE NATURE TRAIL AND BIRDWATCHING POINT
Accessible birdwatching point and nature trail offer the opportunity to enjoy the forest and get near the water safely. The Kasarminlahti area has a lot of different bird species, and many migratory birds also stop there. Kasarminlahti is located less than two kilometres from the market square.

The accessible nature trail and birdwatching platform provide an excellent view over the Kasarminlahti bay and meadow. Services on the accessible section: birdwatching platform, nature trail, accessible composting outhouse, and benches. In addition to the accessible trail to the birdwatching platform, there is a more demanding trail (not accessible) to the Kasarminlahti lean-to and the Vionpuhti campfire spot. The trail is hilly and part of it is on rocky terrain.
Kasarminlahdentie 8, Uusikaupunki.
Esteettömän reitin lähtöpiste, jossa isompi pysäköintialue.
Entrance to accessible trail, with larger parking area.