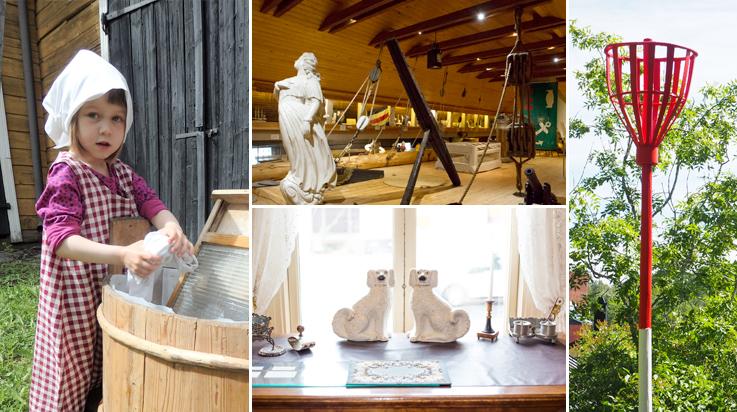 Wahlberg´s house - The Uusikaupunki museum
EXPERIENCE THE GOLDEN AGE OF SEAFARING, THE LUXURY OF A MERCHANT'S HOUSE, AND THE EVENTS OF THE TREATY OF NYSTAD
In 19th century Uusikaupunki, ship-owners had the grandest houses in town. Sailing ships carried merchandise from all over the world and, in addition to the wealth, brought with them plenty of new ideas and fashions. At Wahlberg's house, which is part of the Uusikaupunki Museum, you can see both sides. The museum showcases the golden age of the town's seafaring history and the life of a middle-class family.
Wahlberg's house was built more than 150 years ago by the founder of a local tobacco factory, Fredrik Wahlberg. The house still has its original decorative tile stoves, skilfully made frescoes, and hand-painted wallpapers in the parlour. The big hall also has a chandelier brought from Italy.  In the downstairs rooms, you can almost smell the smoke from pipe tobacco and hear the rustle of the ladies' silk dresses.
Upstairs, the museum houses a collection celebrating the maritime tradition of the town. Seaman's chests, souvenirs, paintings, and navigational instruments all have their stories to tell of the golden age of seafaring and shipbuilding. The upstairs exhibition also showcases the more recent history of shipbuilding, shipyards, and the local automobile industry. You can even spot the shoes of the local basketball player, Gerald Lee Jr.
The downstairs exhibition space hosts a series of temporary exhibitions. This year's main exhibition showcases Uusikaupunki as a place of peace. August marks the 300th anniversary of the signing of the Treaty of Nystad, which ended the Great Northern War. The exhibition is on show from May to October, and it presents the events of the signing of the Treaty of Nystad as well as life in Uusikaupunki in early 18th century.
At the end of November, Wahlberg's museum house gets ready for Christmas with its traditional decorations.
Children are also taken into account at Wahlberg's house. They can play detectives in the museum and do different tasks related to the exhibition. The outbuilding contains a cobbler's workshop as well as a play area for children. The Wahlberg's house museum shop has some of the best souvenirs and gifts in town.
Ylinenkatu 11, 23500 Uusikaupunki
Wahlberg's museum house
WAHLBERG´S HOUSE
The Uusikaupunki museum
Ylinenkatu 11, tel. +358 44 351 5447 (museum office). 
museo@uusikaupunki.fi
Opening hours: Jun 14 – Aug 29: Mon-Fri 10am-5pm, Sat-Sun 12-3pm (closed June 25-26). At other times Tue-Fri 12-3pm or at other times by agreement. Groups by appointment.
Guided tours in summer on Tuesdays at 10.30 am and Thursdays at 3.30 pm. Tickets: Adults EUR 5, free admission for people under the age of 18.
Group ticket: EUR 3 per person (minimum group size 10 people).
Guided tours: EUR 40 per group or EUR 60 per group (maximum group size 25 people) outside opening hours (advance booking required). Free admission with Museum Card. You can also pay with Smartum.  
The COVID-19 pandemic may cause restrictions to opening hours or group sizes. Make sure you have up-to-date information: www.uudenkaupunginmuseo.fi