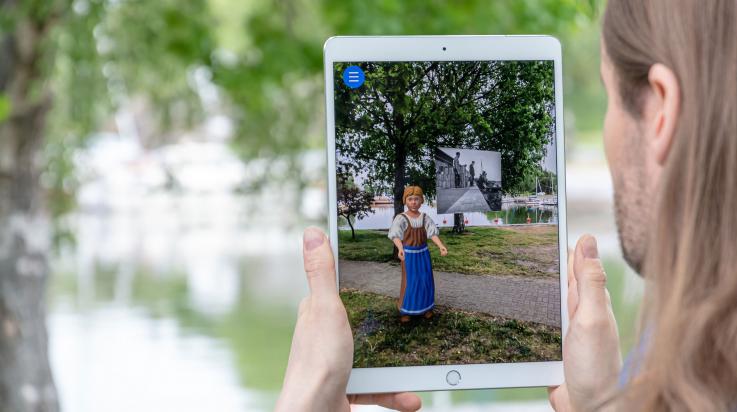 Uki Ar app - learn about the town and its history with a virtual guide
UkiAR – augmented reality application
Learn about the town and its history with a virtual guide
Experience the history of Uusikaupunki in an entirely new way!
The augmented reality application UkiAR provides an interesting pastime that you can engage with whenever it suits you best – by yourself or with friends and family. The application includes 14 unique story points scattered around the Kaupunginlahti bayside and the town centre.
In the application, you are guided by a 19th century maid called Rauha who will join you at the story points marked on the map. She has somehow got stuck in time and can tell you about the history of our seafaring town from a period of about 150 years. She will also show you some old photographs from the collections of the Uusikaupunki Museum.
The content of the application has been created in cooperation with local businesses, tour guides, the Uusikaupunki Museum, and Uusikaupunki Culture and Tourism. It is part of a project managed by Ukipolis Oy and funded by Leader Ravakka and various local companies.
You can download the application from Google Play or AppStore. Further information and download links: visituusikaupunki.fi/UkiAR