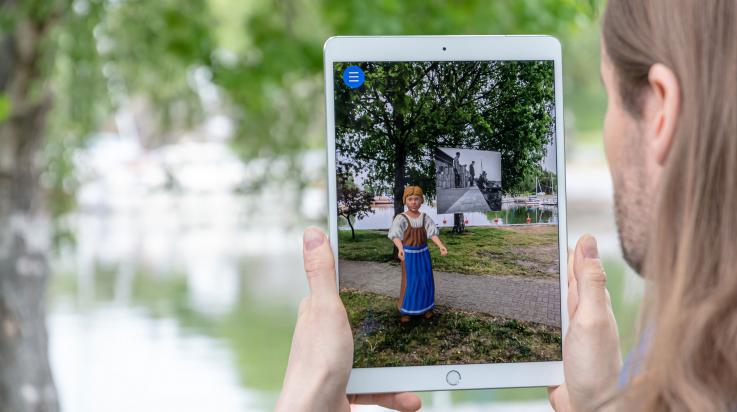 Uki Ar app - learn about the town and its history with a virtual guide
UUSIKAUPUNKI GOT ITS OWN AUGMENTED REALITY APP
Uusikaupunki got its very own augmented reality mobile app, called Uki AR.
The app's users receive location-based information on attractions in Uusikaupunki, narrated by a virtual guide. The guide tells you about the history and the present of each location.
"Tourists, summer residents and town-dwellers alike are wandering around town with a phone or a tablet in their hands, experiencing an 18th century virtual world with the help of our interactive app. In the future, school children can use the app to learn about the history of Uusikaupunki, and new employees at the car factory can get to know their new home town and their job with the help of augmented reality," explains Pakkahuone entrepreneur Tapio Pääkkö enthusiastically.
The demo version of the app was introduced during the Old Houses of Uusikaupunki event in autumn 2019, and its reception was positive. The app was finalized during spring 2020, and it is now available for download from app stores.
The contents of the app have been planned together by companies in Uusikaupunki, the Museum of Uusikaupunki, the Tourist Information Office and Culture Department of the city and tourist guides. Historical expert is Lauri Viinikkala, whose roots are in Uusikaupunki. Irmeli Laaksonen, Tourism Designer of the city of Uusikaupunki, has given her voice to the virtual guide of the app.
The technical part of the app was created in hands of CTRL Reality from Turku. The app was planned and finalized in a project managed by Ukipolis Oy, funded by Leader Ravakka and companies in Uusikaupunki.