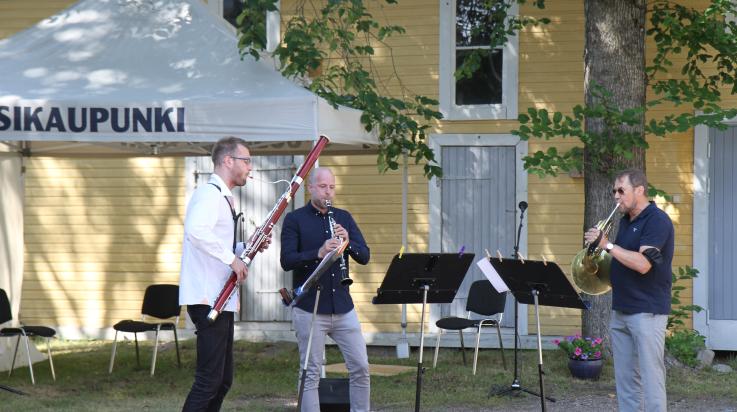 Crusell Music Festival 22–29 July 
Dreams of Tomorrow
The historic surroundings of Uusikaupunki will be filled with woodwind music about dreams and nature.
This year's Crusell Music Festival is an homage to the beautiful nature on our wonderful planet! We will explore the different ecosystems on Earth through woodwind music. There are themed concerts for the sea, the arctic, and the exotic Amazon, all of which are irreplaceable for humanity. They are also the most vulnerable ecosystems when it comes to human impact, including climate change.
The theme for Crusell Music Festival 2023 is "Dreams of tomorrow". In addition to natural themes, the festival will include pieces related to dreaming and dreams. In this context, dreaming is related to our faith in the future – our dream of preserving the planet for future generations! Growing awareness, technological innovations and concrete action brings us hope for a better tomorrow. The Crusell Music Festival wants to be part of this positive development! This year's festival is organised in co-operation with WWF and the Finnish Climate Change Panel. They will be providing information on these important topics throughout the week, and you can make donations to them during the concerts. Dreams and action will take us forward!
The festival will once again be filled with top artists,such as the Emma Award winning Kamus Quartet, the winner of the International Crusell Competition clarinettist Jonathan Leibovitz, flautist Christina Fassbender, oboist Juri Vallentin, and bassoonist Mor Biron. The main concert at the New Church is starred by internationally famed bass-baritone Nicholaus Söderlund. Timo Lassy jazz trio entertains in the jazz night, and children's music orchestra Loiskis provides a fun experience for the whole family in their movie concert "Eläimellistä menoa". The traditional Night of the Lanterns is a picnic event with great music on the Vallimäki hillside.
The artistic director of the festival is clarinettist Olli Leppäniemi.
Rauhankatu 10, 23500 Uusikaupunki
(tourist information office)
CRUSELL-MUSIC FESTIVAL 2023

The program and tickets are available from March 2023.
Tickets to the festival are available at www.lippu.fi offices across the country,
and at the Uusikaupunki Tourist Information Office, Rauhankatu 10.
 
The festival program is available at www.crusell.fi
The Crusell Music Festival is named after Bernhard Henrik Crusell, the internationally acclaimed clarinettist and composer who was born in Uusikaupunki. The unique festival specialises in woodwind music. The concerts range from classical music to jazz, folk music and children's music with top artists from both Finland and abroad.  The festival also organises masterclasses to woodwind students who flock to the charming town for the week.