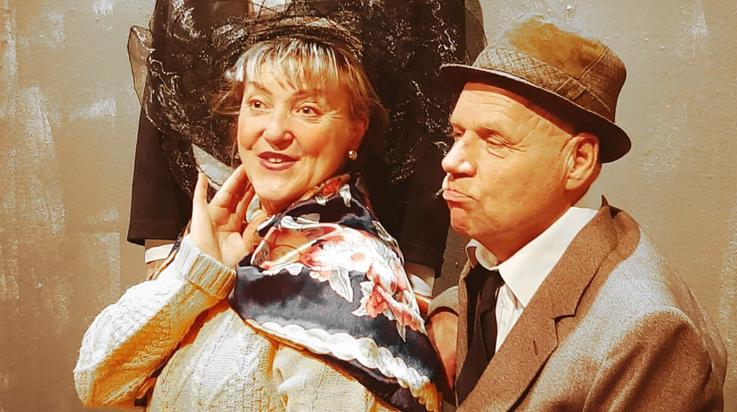 Uusikaupunki Theatre
THEATRE – COMEDY, MUSIC AND REALITY THEATRE!
The Uusikaupunki Theatre has confidence in their own strengths as well as those of the town. There are two premieres in 2020.
The spring season starts with Autotehdas, a play written and directed by theatre manager Jari Luolamaa. It tells the story of the local car factory and its impact on the town. The first half of the play is traditional theatre, and the second half is reality theatre, where the present day is narrated by Topi Kauppinen and the past of the factory is described by Antti Kotilainen. Matti Jussila, editor-in-chief of Uudenkaupungin Sanomat newspaper, acts as an expert.
In Asessorin naishuolet, the most hilarious comedy of the spring, bachelor Assistant Judge Haaravirta's life changes for the worse when his trusted housekeeper dies, and her replacement Vieno turns out to be impossible to life with. A confirmed bachelor set in his ways, Haaravirta decides to show Vieno the door. He then writes a letter to his childhood friend Mathilda Bybom and asks her to come work for him. Due to some unfortunate word choices, Mathilda is under the impression that the Assistant Judge has proposed to her. The ever-so-delighted spinster arrives at once. Haaravirta is horrified by the turn of events.  He needs to make a run for it and quickly! Directed by Jukka Tyrväinen.
In the autumn, two new plays will be added to the program. The first of these, Tankki täyteen – maallamuuttajat, premieres in September. The Viléns' service station has been expropriated, and the family is planning to move into the city. The plans change, however, when Sulo makes the biggest impulse purchase of his life: a farm. Despite Emmi and Juhana's initial protests, everyone eventually gets used to their new home. Directed by Jari Luolamaa.
The second premiere of the autumn season is the nineties-inspired musical Mannapuuroa ja mansikkaa, written by Päivi Sappinen and directed by Laura Hurme. The story is built around the music of Neon 2. In it, old school friends reminisce about their youth in a small town in the early 1990s. They keep themselves busy by hoodwinking teachers, drinking moonshine, and dreaming about the future. During one spring and summer they get a chance to experience a whole range of human emotions from first love to disappointments.
Autotehdas also features the hero of the car factory Topi Kauppinen!


 
toimisto

[at]

uudenkaupunginteatteri.fi
Kullervontie 11 23500 Uusikaupunki
Uusikaupunki Theatre
Cultural Centre Cruselli
Kullervontie 11, 23500 Uusikaupunki
Tel. +358 2 8451 5440
toimisto@uudenkaupunginteatteri.fi
Ticket sales
Office open:
Tue from 9 am to 5 pm, Wed–Fri from 9 am to 1 pm.
Tickets are also available through Service Point Passari, Rauhankatu 10, Mon–Fri from 9 am to 4.30 pm, tel. +358 50 420 5260 and www.lippu.fi, or R-Kiosks.
uudenkaupunginteatteri.fi