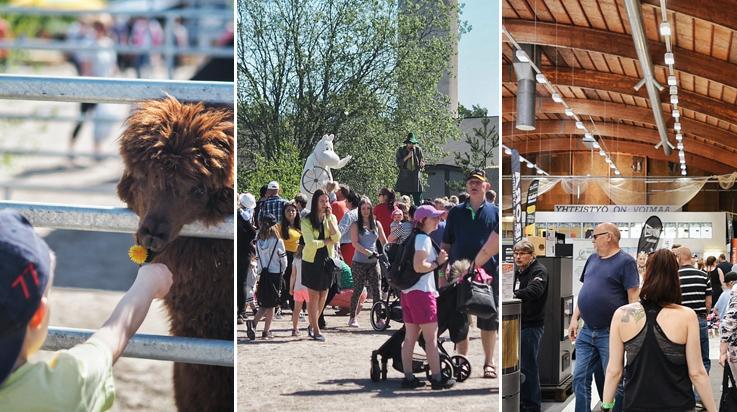 Minifarm & Flower Fair
The Minifarm & Flower Fair, which is organised already for the seventh time, has a lot of interesting things on offer!
The now traditional Minifarm event, which has more than 10,000 annual visitors, aims to find more and more things to do to during the summer. The most inspiring and diverse fair event of the southwestern coast is organised right at the heart of the idyllic Uusikaupunki.
Time to be inspired by the summer super-weekend!
The Minifarm & Flower Fair is a popular trade event that attracts visitors from all over the country with its unique and welcoming atmosphere.
You can find a wide range of products and services from all over Finland. At Minifarm, find the perfect way to upgrade your home, summer cottage or garden, marvel at beautiful flowers, and enjoy the rural atmosphere and farm animals.
The selection is more extensive than ever before, so you can find what you need for your building or renovation project or get the perfect decorations for your garden. There are machinery and tools available for every need, even cars. And don't forget the lovely farm animals! There is plenty to see and do for everyone! Including surprises, as is the Minifarm way.
The best picks
The Farm is the favourite among the children in the family and the highlight of the whole event. There you can meet farmyard animals, see various kinds of work demonstrations, and enjoy a great atmosphere.
The building theme area offers solutions for the building needs of the home, the cottage, and the garden as well as products and services for interior design.
Big and small machinery and vehicles will be on show for the needs of consumers and businesses alike.
From the Flower Fair area you can find beautiful flowers and seedlings as well as other types of plants for the garden or the balcony.
Exciting day trip
Minifarm offers memorable experiences, an exciting program and relaxing country-side spirit for the whole family right in the heart of the town. The fair is also a great destination for a group outing, combining business and pleasure in the form of various trade lectures and demonstrations. Why not make a day of it and get to know some of the other sights of Uusikaupunki, too? The Uusikaupunki Tourist Information Office will tailor a package for your needs.
The pleasant seaside atmosphere of Uusikaupunki is a great place for a day trip of an exciting weekend away!
Trade event for professionals – a memorable experience for all!



Koulupolku 1, 23500 Uusikaupunki
MINIFARM AND FLOWER FAIR AUGUST 1–2, 2020
Minifarm customer service
Tel. +358 40 706 4000
info@minifarmi.fi
Opening hours
August 1 from 10 am to 5 pm
August 2 from 10 am to 4 pm
Tickets
Adults 14 €
Children 3-15 yo 7 €
Family ticket 33 €
Groups of more than 10 people (with advance booking) 10 €/person