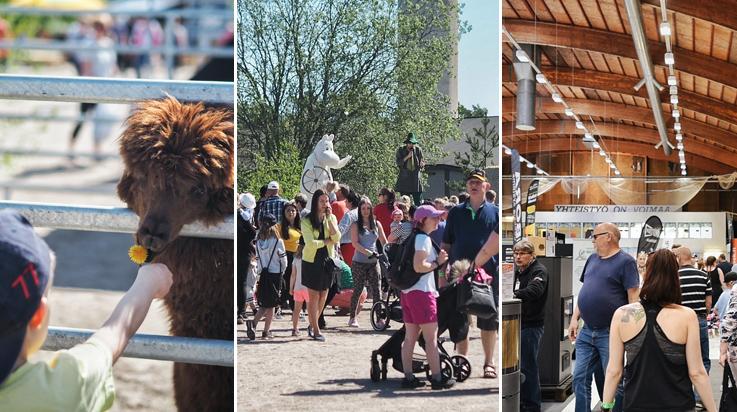 Minifarm & Flower Fair 20-21 May 2023
Something to look forward to! A long-awaited weekend event for the whole family!
The opening event of the summer season in Uusikaupunki is a truly great event. The event is organised already for the eighth time and has over 10,000 visitors annually. There are a lot of interesting things on offer as well as a wide range of activities and presentations.

Time to be inspired!
The Minifarm & Flower Fair is a popular trade event that attracts visitors from all over the country with its unique and welcoming atmosphere. You can find a wide range of products and services from all over Finland. At Minifarm, find the perfect way to upgrade your home, summer cottage or garden, become inspired, and enjoy the rural atmosphere and farm animals.
The selection is more extensive than ever before, so you can find what you need for your building or renovation project or get the perfect decorations for your garden. There are machinery and tools available for every need, even cars. And don't forget the lovely farm animals! There is plenty to see and do for everyone! Including surprises, as is the Minifarm way.
 
The best picks

Unique trade event. Find the best construction solutions for your home and your summer cottage.
Vehicles and machinery for professionals and consumers alike.
Beautiful flowers for your garden and delicious food from local ingredients.
Excellent programme and performances! A great experience for the whole family!
 
Our social media accounts will have the most up-to-date information on the event.
Follow us to stay informed!
www.minifarmi.fi



Koulupolku 1, 23500 Uusikaupunki
MINIFARM AND FLOWER FAIR  20-21 MAY 2023
Minifarm customer service
Tel. +358 40 706 4000
info@minifarmi.fi
Opening hours
20 May from 10 am to 5 pm
21 May from 10 am to 4 pm